Everyone's got one.
Something you enjoy, but don't usually tell many people about. You might be a scrabble addict. Maybe you stay up until dawn playing World of Warcraft? Can't get enough of Harry Potter?
So c'mon, what's your inner nerd?
This is mine, model aircraft. I've only taken it back up in the last 12 months, but I used to make heaps of them when I was younger. I've only completed 2, and one will be done at the end of the weekend, one is underway, and one I haven't touched yet...
It's my chill out time, I love it. And it's gotten me into airbrushing too, which I'm working on...
This is a 1/72 Scale Hurricane IIc, my daughter gave me this one for Christmas.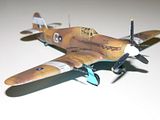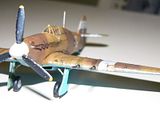 And to give you some idea of the scale...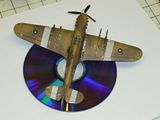 And this is the first one I did, I saw it on Ebay and had to buy it... From there it all snowballed to the point where the dining table was covered in paint tins, scalpels, tweezers, glues and kits. The boss then said that was enough and I had to get my own desk
It's a 1/48 scale Spitfire, of 79 sqn RAAF, served in Malaysia and New Guinea.
I knocked over thinners on the canopy and rooted it, and am waiting on a new one.