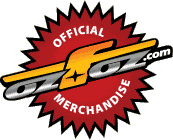 Official OzFoz die-cast alloy keyring
EDIT: 28 August 2014
All but four of the keyrings were shipped today.
I'll be sending the remainder tomorrow if all goes to plan.
Sorry again for the signficant delay.
Enjoy!!
***********************************************
Ok... due to popular demand, this is our last shot at an OzFoz key ring group buy.
The minimum order quantity is 100, however we can order any quantity above this.
Therefore, once we reach 100 orders, it is definitely ON.
CONDITIONS OF ORDERING
* Orders will be taken until midnight on Tuesday 24 June 2014. We have revised this date from 30 June as we have already reached the minimum order quantity as of 19 June!
* To order, post your username and the quantity of keyrings that you want in this thread (eg. pete_mac 2) as I can cut and paste this easily into my list.
* Payment PMs will be sent as soon as we reach 100 orders. If we do not reach 100 orders at midnight on Monday 30 June 2014, the group buy is cancelled.
* Payments will be required by midnight on Tuesday 1 July via direct deposit or paypal (ie. one week after the conclusion of the ordering period).
*
Your order is your order - it is not an EOI, a maybe, or a perhaps.
It is an iron-clad commitment. If you order and then withdraw, I won't be wasting my time by including you in any further merchandise orders. Sorry, but given that this is the last chance for this group buy to go ahead, we need tough rules to discourage people from pulling out.
* If you do not 100% intend on following through with your order, PLEASE DO NOT POST IN THIS THREAD. Simple as that! As mentioned above, withdrawing from the purchase, ignoring payment PMs etc will see you excluded from any future group buys. In the nicest possible way, please don't waste my time and everyone elses time.
* I will not be placing the order until all payments are received in order to reach 100 keyrings. If we have reached 100 keyrings but people are still dragging the chain, the order will proceed and those who haven't paid will miss out. If we don't reach 100 full-stop, this order does not proceed.
FAQs
How many can I order?
You can order anywhere from 1 to 100 keyrings. Seriously, order as many as you like! Most people prefer to order at least two keyrings as they have a fresh one for when the old one gets a bit scratched-up after years of use. Of course, it is up to you!
Will there be another keyring group buy?
Perhaps in several years time, but it is contingent upon there being sufficient interest. Personally, given the length of time it has taken to arrange this second group buy, and the minimum order quantiy of 100, I'd assume that this will be the last one for quite a while! So, if you want a keyring (and spares for the future) then now is the time to act! Get one while you can!
What are they made of and how big are they?
The keyrings are die-cast alloy with a black-ish finish around the raised part of the keyring. This gives a really nice 3D effect overall.
The keyrings are 68mm long and 18mm tall.
What is the cost?
The cost of the keyrings are $16 ea (there was a slight increase in price given that the original quote was from a few years ago!).
How much is postage?
Postage is $4 Australia-wide including shipping and a padded bag.
For those of you who have enquired about buying an OzFoz beanie at the same time, it wil be $8 postage for both the beanie and keyring inside a 500g tracked satchel. The beanies themselves are $15.
Is pick-up available?
Pick-up is available from Gledswood Hills, outer south-western Sydney (near Camden).
How do I pay?
Once the payment PMs are sent, the details for direct bank deposit or paypal payment will be provided. Paypal payments must be made as a 'gift' otherwise I get hit with fees.
What if I am not sure about ordering?
If you aren't committed, don't have the spare cash, and don't absolutely 100% intend on participating in the order... do not post in this thread. The ordering and payment period is over the next three weeks. We need to wrap this up FAST. Only order if you are dead keen, ready to go, and have funds in your bank account/paypal/hidden under the mattress/have Foz parts to sell to fund keyring purchase.
EOIs
pete_mac x 2
canberra_fozza x 2
ozmaen x 2
ThatChinskiGuy X 2
Chips x 2
1Slow x 2
rowbert x 2
04xtfoz x 2
GT2001 x 2
slobbythegreat x 2
Monsterfoz7 x 2
blake x 2
Fordmech_SUBI_fan x 3
Savolion x 1
Abha93 x 3
JD_guitarman x 2
craig747400 x 2
roulette x 1
dixon001 x 3
maXX x 2
genetik_defekt x 2
Ashylarry89 x 2
SJM20T x 1
hot40k x2
S2-13bt - 2
lnewling x 2
pazila x 2
eehan x 1
XTIBOX x 1
alexorsi x 1
Undeadfozzer 2
rozza b x 2
Harry88 x1
aussie_mitch x 2
TGM2 x 2
Danzfoz x 1
Jez x 2
Paulie X 2
Wilso8948 x 2
JonesyGT2 X 2
nts_man x 2
lochGT x 2
Rambo x2
DERTY6 x2
miff88 x 2
20inch x 3
mattyboy x 2
BadHairDay x1
Fozzy_Ballsack x1
dannyson x 1
Domn8r x2
gravox11 x 1
dontmesswifdarex x 2
Scubafoz x1
bishi2516 x1
AZUMI x 2
QikGT x 1
my01foz x 1
cgh12 x 2
jaymanchan x 2
jwhittaker86 x 1
spoonano x 2
tryangus x 1
koski x 2
blackonchamps x 1
hsvsti x 1
Bluering x 1
Frosty1 x 2
mcconnachie x 1
reflex x 2
yenjaiken x 1
rojimac x 1
84superoo x 1
TheReactor x 1
blakey95 x 2
paul_B16 x 2
scottish007 x 1
SPiRE x 1
blackduck30 x 1
-----
135!!