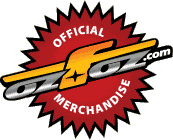 THE ORDERING OF OZFOZ DECALS IS CURRENTLY CLOSED UNTIL FURTHER NOTICE.
BIG THANKS FOR YOUR SUPPORT OVER THE YEARS.



~ MACCA
Welcome to OzFoz
Want to represent the site you've come to enjoy?
Add a personal touch to your ride and order an OzFoz decal today!
Made from high-grade sign vinyl, these will last for years and are easy to adhere.
OzFoz decals are available in a range of colours and in two sizes.
Medium
28cm x 6cm
Small
18cm x 4cm (available only in a pack of two of the same colour)
Cost per item
Medium $12ea + p/h
Small $15 2pk + p/h
Postage and Handling
$4.00
Payment Methods
Bank Deposit/EFT
PayPal
Orders will be process the weekend after your payment has been cleared.
Colours Available
All decals will have a black background, with the words 'OZ' and '.com' in silver metallic. You may chose from the following colours for the 'F' logo.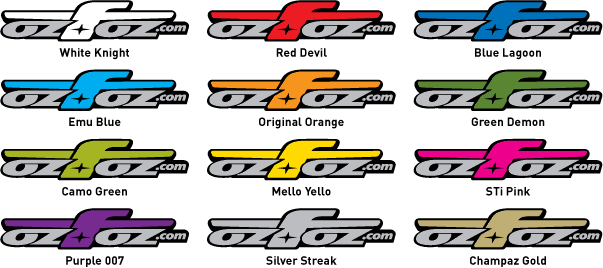 * Colours for example only and may differ slightly from end product.
Chat, Flaunt it, Payments and Shipping Status Thread
Check
here
to view the current status of your order, flaunt pics of your ride with the OzFoz Decal installed or general chit-chat about the stickers.
PLEASE NOTE:
The decals are no longer supplied with OzFoz Spotted Cards.
As the official cards have been made available, please see
THIS TOPIC
if you wish to order Spotted Cards.
To order, click the button above and fill in all the details and hit Submit.
DO NOT

change the Subject Title in the Message.
It must read " Re: OzFoz.com Decals "
**Attention iPad users. As you can't scroll in a window within a window, please jump on a proper computer to submit your order.
Orders will not be accepted without completing the entire order form. Nothing I can do about it until they (Apple) fix it.
I will reply to your order with total amount and payment details. Please pay within 7 days of receiving the details, or your order may be cancelled.
Please note: I will not always reply to your receipt of payment, but please check the
Shipping Status
thread for your name and your order/payment status.
In some cases there may be a delay in your order.
I don't make stickers as a full time position. I make them after hours or on weekends.
Certain circumstances may prevent me from processing or posting your stickers on time, so I ask for your patience if this is the case.
Cheers
Macca
FAQ's
Are other custom colours available?
Sorry, only the 12 selected colours from the pallet above are available.
Do you have an outlined version?
No. Only the solid version above exists for the meantime.
How about a reversed version for inside the window?
At this point, it's not feasible for me to produce a reversed version.
Are there any stickers available?
They're always available for purchase unless noted at the top of this post.
Please follow the instructions on how to order a decal.
I've paid for my order, why is my order still in 'Awaiting Payment'?
Firstly, it's not an automated system. I have to check and update these manually when I get the chance.
Paypal instant payments are fairly instant... I will update these asap.
Bank Payments can take 24-48 hours depending on the bank.
Paypal eChecks can take from 8-15 working days to clear. Please be patient here.