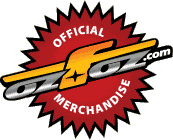 Official OzFoz die-cast alloy keyring
EDIT: October 2013 - ON HOLD UNTIL FURTHER NOTICE
EDIT: 12 April 2013
This GB will re-open ASAP, and I will see if we have sufficient interest to progress. I will PM those who EOI'd to see if anybody would like to add an extra keyring to their order. Any new EOI'ers who are 100% committed should also post in this thread
cheers
Pete
***********************
Okey dokey!
Is there enough interest for another batch of OzFoz keyrings?
Minimum order quantity is 100, so we need to reach this number in order to go ahead (or at least damn close to it).
Order as many as you like! One for your car, one for your bike, one for your cat, one for your mother-in-law, one because race car!
The keyrings are die-cast alloy with a black-ish finish around the raised part of the keyring. This gives a really nice 3D effect overall.
The keyrings are 68mm long and 18mm tall.
The cost of the keyring is $15 ea.
Postage for two or less keyrings will be $4.00 Australia-wide, or $5 for three or more.
Please post your firm interest in this thread!