Excellent write up and most helpful to solve my OCV problem.
i would just like to point out that the bolts you removed are the union bolts that do not or should not have filters. The filtered banjo bolts (or referenced by union bolt with filter) is lower down the engine following the oil line.
It is best referenced by one of the part breakdowns, such as Opposed Forces website.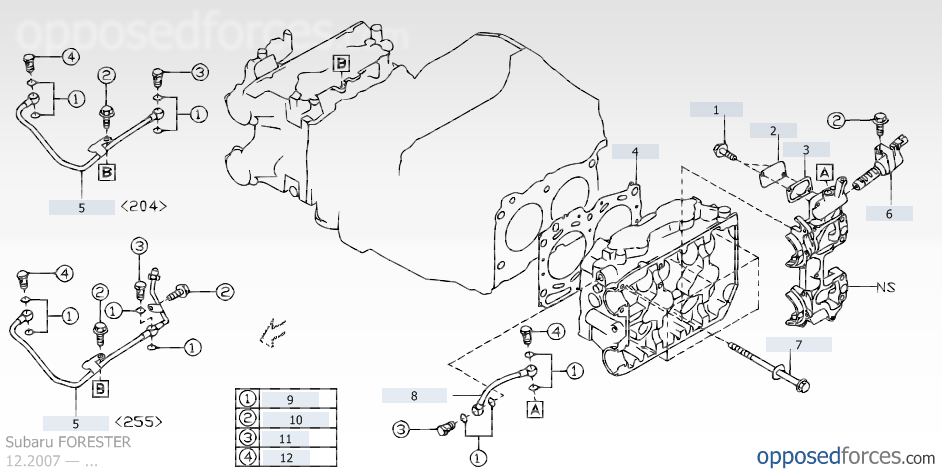 In this diagram it shows the bolt you removed is just the union bolt (no filter)
bolt labelled '4' 15194AA270 SCREW-UNION
and that the union bolt with a filter is in a different location (harder to get to).
bolt labelled '3' 14445AA090 UNION SCREW AND FILTER ASSEMBLY
This bolt has a protrusion on the end of the bolt, which can easily help to identify you have the correct bolt.
A good write up on this can be referenced:
http://www.subaruforester.org/vbulletin ... ndex2.html
Hopefully this helps someone.
Just thought I would add , on my 04 XT the filters were in the easy to get to 17mm bolt marked 4 in this diagram - just in front of the solenoid , so maybe they moved them in later models . Just had to undo inlet from air box for the other side and they both came straight out with a socket / extension , you can then fish the broken filters out with small tweezers or a bit wire if need be .
If bits are missing you will have to remove the solenoid .
Not the best pic but reference the bolt to the solenoid and it's the same on the other side .