This is my first DIY guide and first attempt at a radiator change. I hope this helps someone out.
A little while ago my drivers side top radiator hose decided to explode. So I took it to Subaru to fix. All good. Until a month or so later I could smell coolant again. I popped the bonnet and found the engine bay covered in nice green speckles.
The culprit:
So with recommendations from others I ordered a Golpher radiator from
Michael Auto Parts
for AUD$255 delivered to me in Melbourne. There website was down when I needed to order so I gave them a buzz on (02) 9709 8883. As of this writing their site is back up. I paid by PayPal and the radiator arrived within about a week.
You'll need to grab a few extra bits to complete the install. Coolant of course, I grabbed a 5 litre and 1 litre as extra.
EDIT: maybe grab 10lt, to allow you to fill via the rad cap and top up the overflow. You'll also then have some spare. I had to get some more today to top up, also partly my fault as I left of the rad cap this morning after checking it.
The fans are held on my 3 bolts, the OEM ones are self tappers with a wide thread whereas the Golpher requires normal bolts with a narrow thread. I picked p a pack of 8 M6x20 bolts from Bunnings for AUD$2.50. Also get some foam tape. I got mine from Clark Rubber and it's suitable for high temperature and solvants. Cost me ~AUD$11 for a meter.
The tools I used were a 12mm and 10mm socket with extension, phillips and flat head screwdriver.
So today was a nice day, on with the install.
Make sure you have parked on a nice level area. Jack the front of your car up and rest it on some stands. Ensure your engine is cold, you don't want to burn yourself with hot coolant!
Remove your undertray if you have one. Mine was held in with 4 12mm bolts, 2 up front, 2 at the rear and 4 snap clips.
Now we want to drain the coolant. There's 2 ways you can go about it, slightly messy or really messy. The really messy way would be to remove the bottom hose from the passenger side of the radiator. The slightly messy way is to use the drain tap. I chose the slightly messy method.
Pop a bucket under the drivers side of the radiator and loosen the tap. You can put a host on the tap to try and guide the coolant into he bucket. This didn't seem to work too well for me as it seemed the coolant was coming out of the nozzle and the tap handle. Undo your radiator cap and let it drain. Mine took a while.
Tap:
Radiator cap off. Dunno what that gunk is: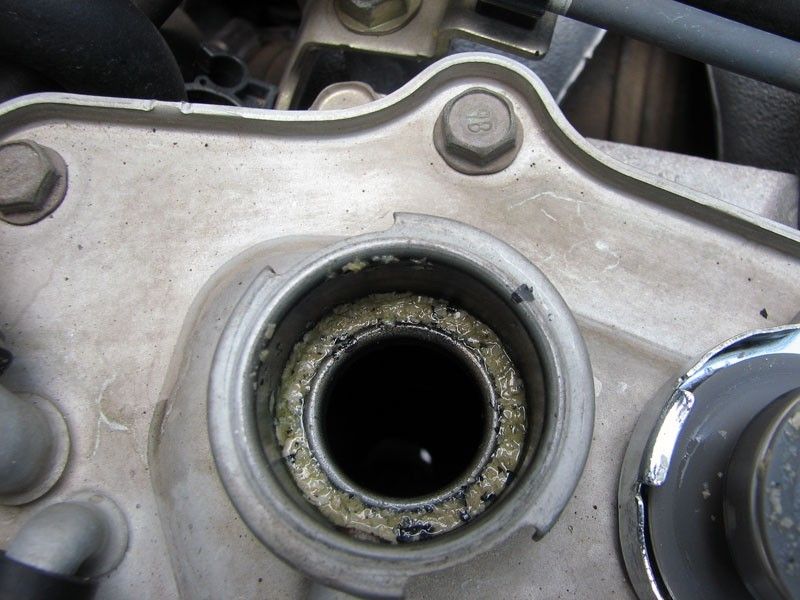 Draining away:
Once you coolant is fully drained, remove the radiator mounts and hoses.
Radiator mounts off:
Drivers side hoses off:
Overflow hose removed:
At this stage I lifted the radiator on the passenger side to drain more coolant.
Now you need to unplug the power cables that connect to the fans. There's one on the drivers side. You can reach down from the top to undo it. There's another on the passenger side that needs undoing from underneath. While you're under here detach the passenger side radiator hose. Careful you don't get covered in some left over coolant!
Drivers side power plug:
Passenger side plug and radiator hose:
Now you should be able to lift out your radiator. While it's out give the bay a little clean. Mine had coolant sprayed all in there.
Comparison of old and new. The Golpher is a bit thicker: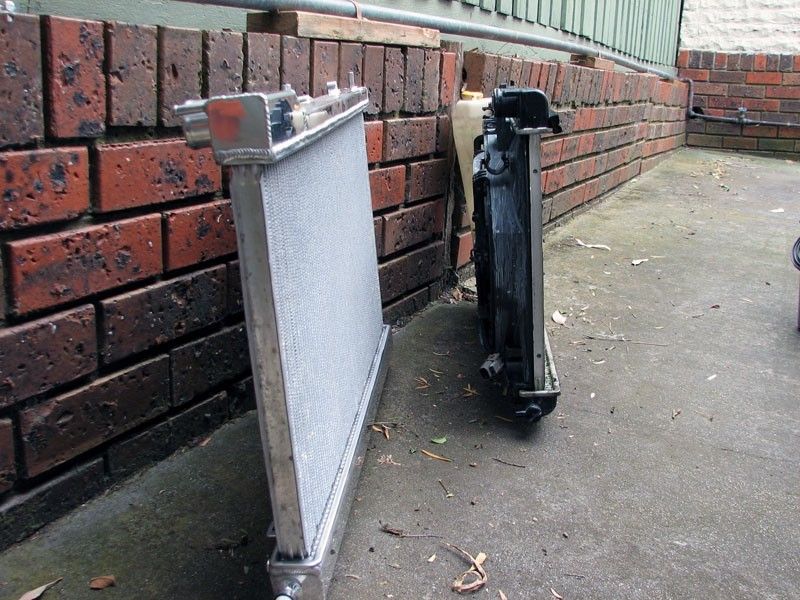 Ooooh, shiney vs, blah dirty:
Unscrew the three top screws holding the fans onto the original radiator. You can see here that they don't sit flush on the passenger side:
So I used some of that foam to fill the gap:
No more gap:
It probably wouldn't matter too much if the gap was left but I had extra foam tape and it should help the cooling efficiency. Ensure your bolts are screwed in, not too tight so as not to crack the plastic.
Now drop the Golpher in. It took a little bit to get the pins to line up with the mounts at the bottom. Put the foam tap along the width of the front of the Golpher.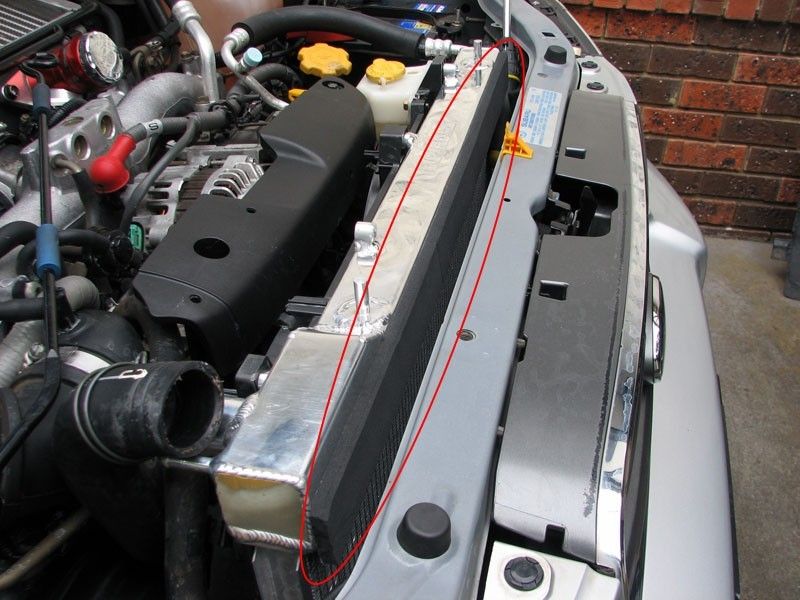 Reattach the 4 hoses (Drivers x2, Passenger overflow, Passenger bottom radiator), connect the 2 fan power plugs, bolt in the top radiator mounts and put back on your undertray.
Now refill with coolant. This took a while too. Adding a bit till the reservoir was full then waiting for it to empty, repeat, squeeze the drivers side radiator hose "burping" it, repeat til it stays full. Fill the overflow. Replace radiator cap. Done! The owner manual says to run the engine for ~5mins at 2000-3000 rpm. So I did. I had my ScanGauge plugged in and watched the water temp. When it got to 92degrees the radiator fans kicked in. When it got to 97degrees they spun faster. Looks good
All up it took me around 3 hours including pic taking, draining, refilling, etc.