With the recent myth-busting regarding GC8 rear strut hats fitting Foresters, here's some clarification on the matter once and for all. If anything needs to be added or amended please let me know! Thanks to staples, BJM, bertjamsam, magus and 20INCH on GTrydaz for their input.
All SF and SG Foresters share the same strut hat stud spacing as each other (both front and rear).
The rear strut hat stud spacing is the same as the MY01+ WRX (GD models etc). This means factory or aftermarket struts/coilovers require strut hats that suit these models (or factory Forester strut hats). This is the Forester and GD WRX/STI rear strut hat stud spacing: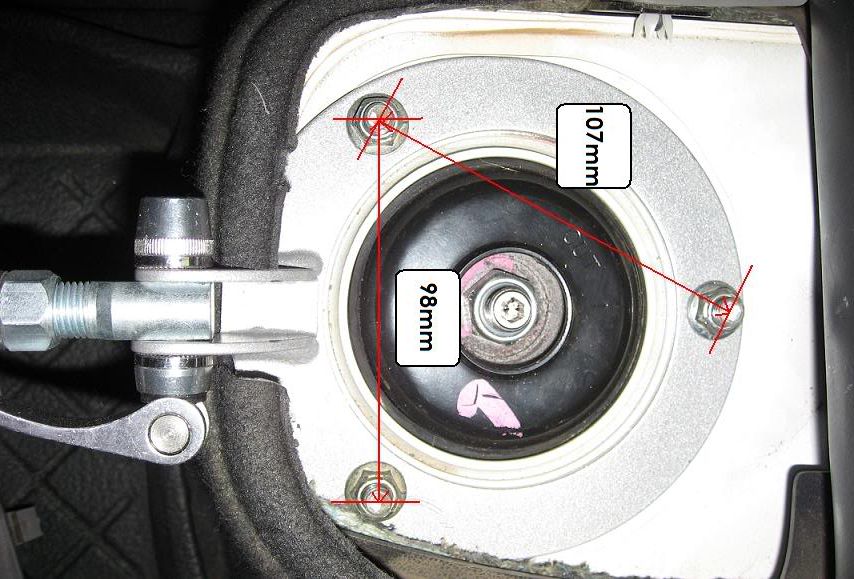 The front strut hat stud spacing is the same on both GC and GD WRXs and STIs. This means that factory or aftermarket that suit these models should have the correct strut hat stud spacing for the Forester.
However, there is a difference in the front strut hat stud orientation. The SF Foresters and GC Imprezas have the same front strut hat stud orientation. The SG Foresters and GD Imprezas have strut hats which are rotated in terms of the stud orientation. The front strut hats are seated on a ball bearing top to enable the strut assembly to rotate along with the steering of the car, so it is very simple to orientate the front strut hats correctly for your application. The only forseeable issue that this may cause is when GD-style coilvers are fitted in the front of SF Foresters. Given that the GD coilover strut hats may be optimised to allow camber and caster adjustment when fitted in a certain orientation, turning the strut hat may affect this adjustment.
You can see the different strut hat stud orientation here:


SO... what's the go re: suspension compabibility?
Hopefully the below table helps to clarify the situation. If it requires amendment please let me know!
NOTE: For the purposes of cross-referencin
Version 1 and 2 = approx. MY94-96
Version 3 = MY97
Version 4 = MY98
Version 5 = MY99
Version 6 = MY00
Version 7 = MY01+ (Version 8 is somewhere after this)