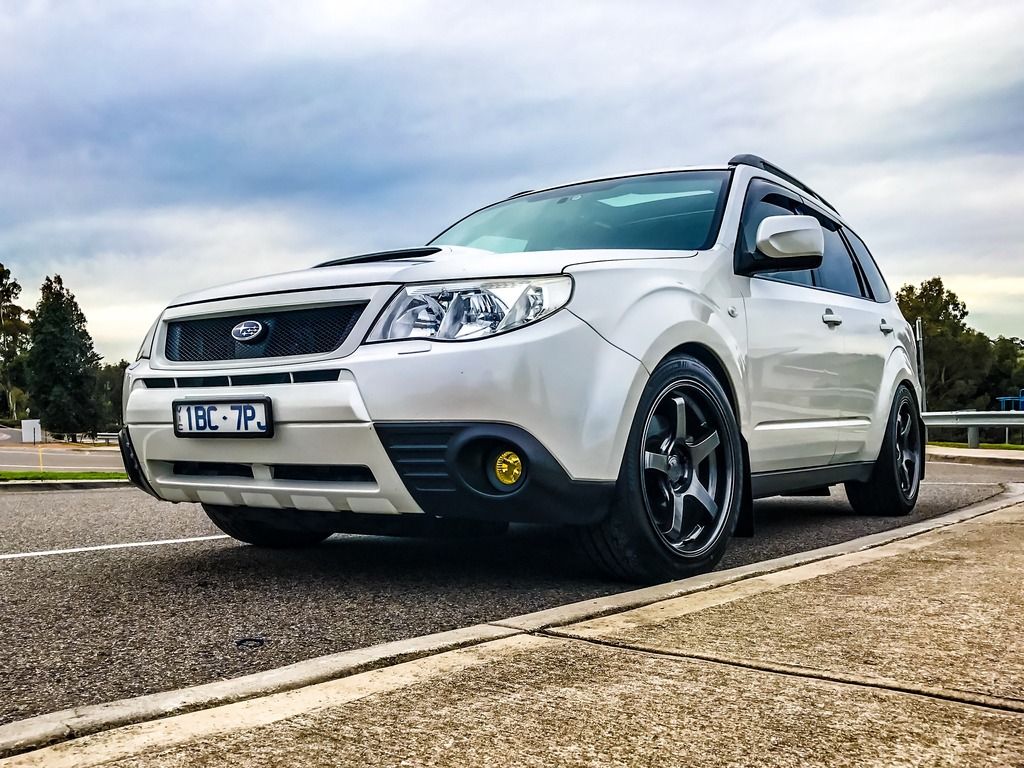 I've been lurking this forum for years slowly gathering information and buying parts to build myself a nice daily with enough power to have some fun when need be.
I Bought the car stock with 69,000kms back in May 2015, Since then I have done all of the mods listed below, I've installed every part myself except for the ALK and RCA, all in my garage. I had little mechanical experience prior to working on this car, only what I have learnt from observing my father while growing up, and some basic suspension, exhaust, and stereo install work on my old Nissan N15 SSS.
There has been some sheared bolts, rounded off nuts, bruised and bleeding knuckles, and a lot of cursing involved in building this Forester, but I've learned a lot and I can proudly say that it was built not bought.
So here is my 08 (MY09) Forester XT Premium 5sp, Satin White Pearl, Still a few bits left to go to get it exactly where I want it.
Power/Engine Bay
PSR Silicone Turbo Inlet w/SFB
XForce RS Spec Mild Steel Turbo Back Exhaust (Painted black for longevity/stealth)
Replaced
2018 STI Catback w/Mishimoto 3" DP to OEM Catback adapter.
IHI VF52
Process West Verticooler Black (SH Specific)
Turbosmart Kompact Plumb Back BOV
Deatchwerks DW65C Fuel Pump
Cobb Turbo Heatsheild
Thermal Zero Turbo Blanket
Cosworth High Flow Panel Filter
OEM Battery and ABS Covers
Throttle Happy Dyno Tune @ RevZone, Ringwood - 202kw 398Nm
Suspension/Chassis/Brakes
WRX Strut/Spring Combo w/ 3/8" Saggy Butt Spacers/Long Studs
Replaced
MCA Blue Coilover Suspension F 8kg, R 6kg
Replaced
MCA Red Coilover Suspension F 6kg, R 5kg
Replaced
Koni WRX 2011+ Struts, Kings WRX Standard Height Front Spring - KSFS-52, Kings WRX Raised Height Rear Spring (1" taller) - KSRR-53
Replaced
SJ KYB Struts, SJ Swift Lowering Springs
Whiteline 24mm Front Sway Bar
Whiteline 22mm Rear Sway Bar w/support braces
Whiteline Anti Lift Kit
Whiteline Roll Centre Adjust
Whiteline Positive Shift Kit
Removed
Whiteline Rear Diff Positive Power Kit
SPC Rear Lower Adjustable Control Arms
Perrin Rear Subframe Lockdown Kit
Removed
Kartboy End Links Front and Rear
Whiteline Power Steering Rack Bushes
2009 Subaru WRX 15:1 Steering Rack
STI Flexible Strut Tower Brace
Cusco Master Cylinder Brace (Painted Black)
Subaru Liberty GT Gen V Brakes Front & Rear
Subaru R180 LSD Rear diff
Wheels/Tyres
Rota RT5-F 18x8.5 +42 - Hyper Black w/Flat Cap
Bridgestone Potenza RE003 245/45
Replaced
Continental ContiSportContact 5 - 245/50
Exterior
OEM Sports Grill
OEM STI Front Spoiler (Not yet painted/installed)
OEM Weathersheilds
Hella Supertone Horns (Painted Black)
Chrome Indicator bulbs
Colour Matched Door Handles
Black Slimline Numberplate Covers
Yellow Tint Fog Lights
OEM Subaru Tow Bar
Homemade rally style mudflaps
Whispbar Roof Racks
Interior
WRX Cluster (To be installed)
Impreza RS Leather Front Seats
Kartboy Short Shifter w/Bushes
LED Interior Lights
OBD2 ELM 327 Wifi Dongle
OBD Fusion iOS App:
Boost, Digital KPH, Coolant Temp, Volts, Intake Temp
Apple iPod Touch 6th Gen (to run OBD Fusion)
Pioneer App Radio 4
Focal Polyglass V2 6.5" Splits
Kenwood 12" Subwoofer
Alpine F4 Amp
Alpine M6 Amp
Resomat Sound Deadening (Boot & Doors)
Waiting to install
OEM STI Front Lip
2015 Brembos
Braided Brake Lines
Spec B 6 Speed
Black out Headlights/Tail Lights