Hello All,
After having my forester for about a year without modding it, the mod bug has bitten and it has bitten hard. I have finnally given into temptation and started doing bits and pieces. This is basically a little space for me to document my progress. I plan to use this space for right ups and reviews. I will try and include photos of the process and the end results. But I have done some stuff without taking fotos (oops).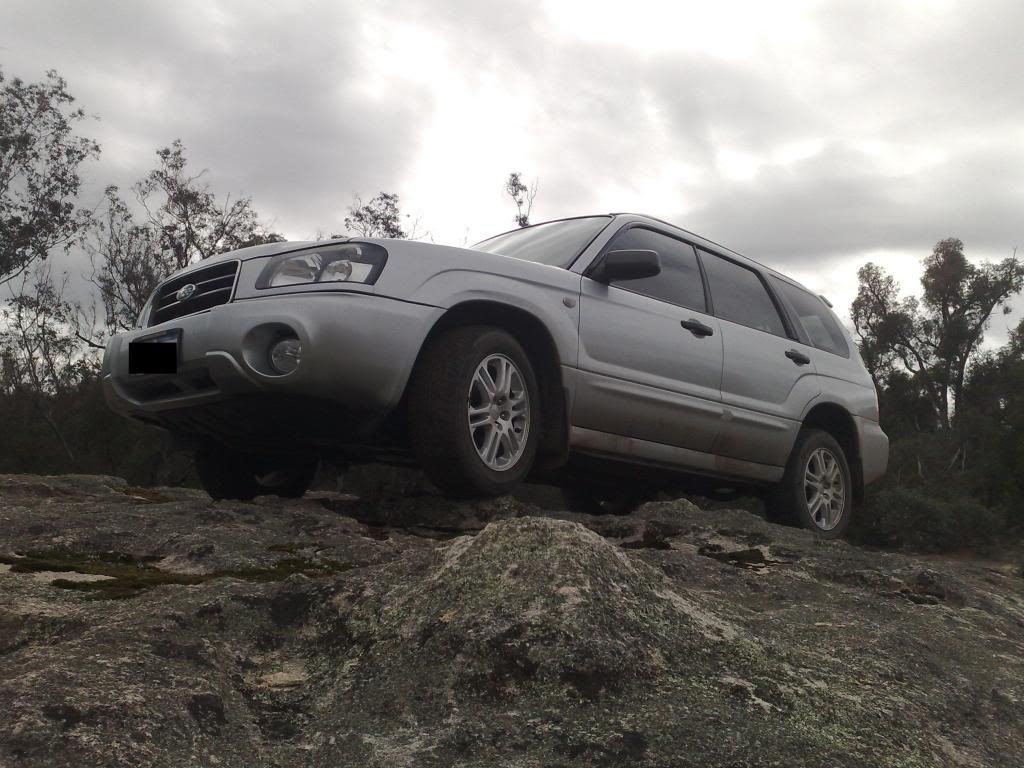 Over the last few months I have done a fair bit to her. First up was some minor cosmetics,
STI tail lights
, a
genuine spoiler
(without led brake light) and a
JDM STI scoop
. The tail lights and spoiler came from subarugenuineparts (the spoiler even came colour matched) The scoop from japanparts, I had it painted by Steve at All Quality PnP. These are basic bolt ons and don't rely require a how to. Although I did wire in an extra Stop/Tail globe holders to the harness as the STI tail lights have an extra fog light slot and come with a complete harness, so why not. I also got a topdash double din mount kit for a planned carputer system from subarugenuineparts. But that is yet to be installed.
Then I did a dual battery system for my last camping trip to run the camp fridge. "Where the hell do you put a second battery in an XT?" I hear you ask. Well I put it in the rear right cargo space. I removed the stock floor tray thing and built a ply wood replacement incorporating a space just big enough for a
Supercharge MF50
calcium battery. Its a starting not a deep cycle as would be ideal, but these batteries are some of the best moderatly priced batteries available IMHO. They carry a 3 yr warranty and are fairly solid. I painted the wood in this black high grip paint that I used on previous PA speaker enclosures from Pheonix paints. But I am not sure I like the overall look of it. I am planning to have the enclosure remade by a fiberglasser and then carpeted at a later date. Because the battery box is the same size as the stock floor panel, I can easily swap back to standard fittout when not required. Up front is a
Redarc 100amp dual battery isolater
with in dash override, and I used 0b+s cable so that I can easily start from the second battery in the event of a main battery flat.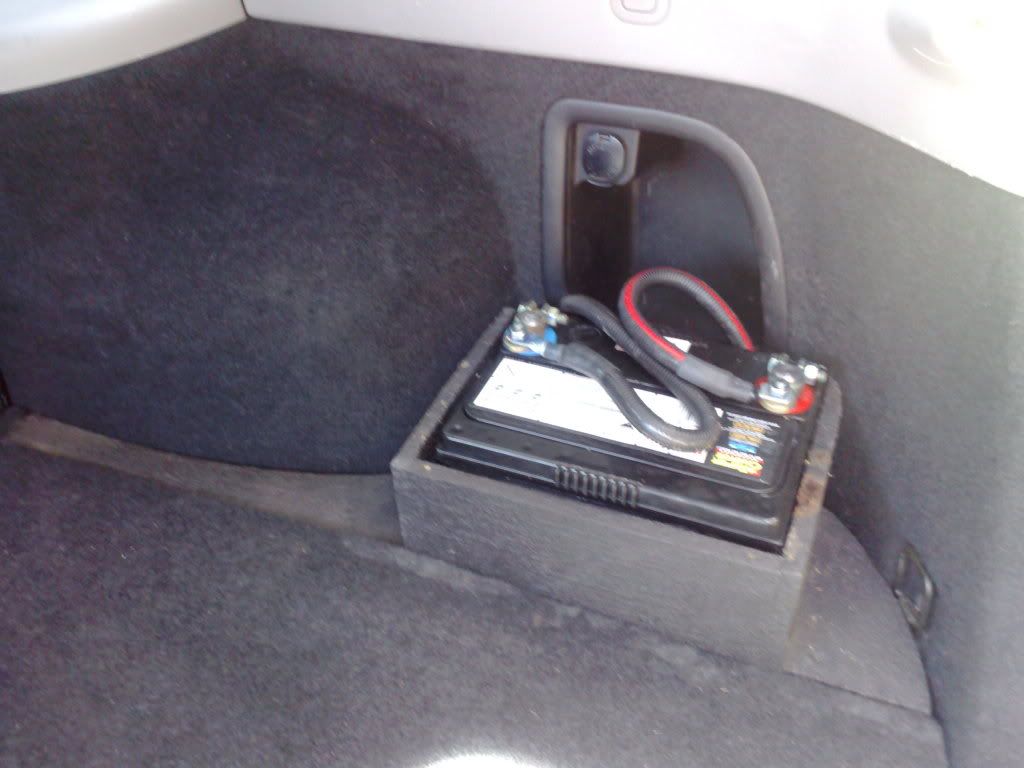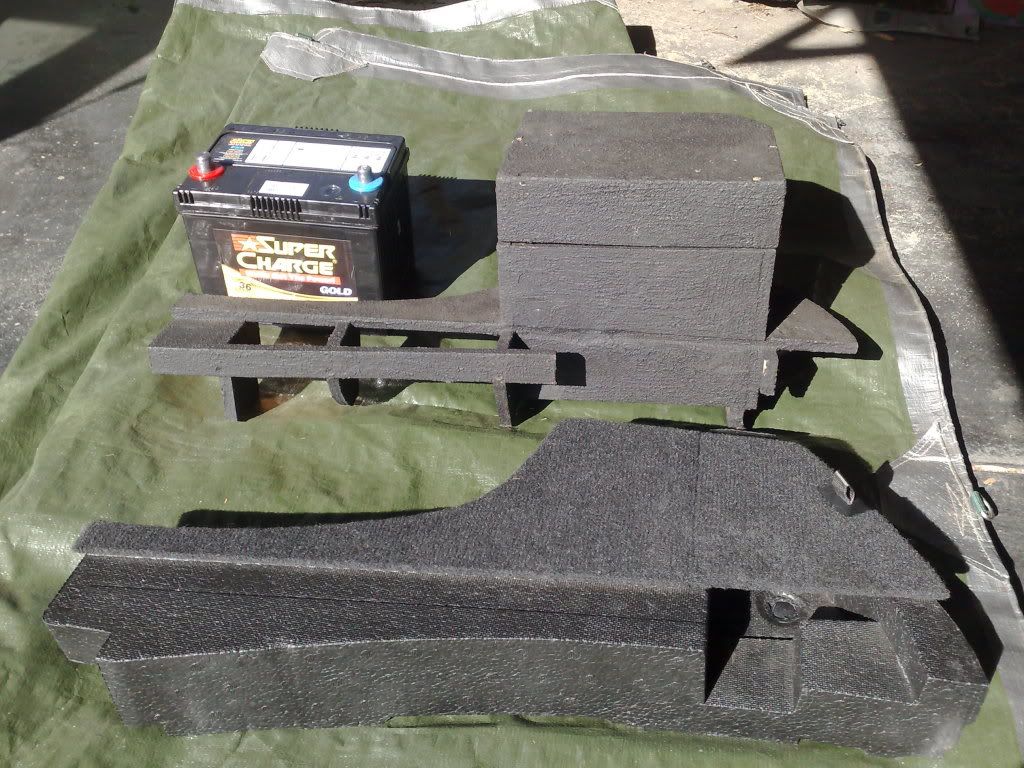 Next up was a
446 RLi Autowatch Premium Alarm
. I hooked up the turbo run on with two relays, (one for ignition, the other accessory) with the alarm and mounted a dash switch for it to cancel the run on if need be. The turbo run on can be set at 1 or 3 minutes, and turned off via the remote. I also used 2 relays to interface my spare remote with the genuine door lock trigger so that the alarm is armed/disarmed with the original key buttons. (stealth install) Also fed the reverse, stop, tail and indicators (via diodes) from the light output on the alarm, and trigger the stock horn aswell as the alarm siren. Perhaps oneday I'll put a tracking/paging device on the alarm trigger should, god forbid, it ever gets pinched.
Then my HIDs arrived. I was going for the jay car response ones as they are well priced and reliable, but when I ordered they had no stock so I opted for the
Newpro-Tech 35w HID
units as they are also commpetitivly priced and have a two year warranty. H4 dual beams and H3's for the fog lights. The H4s were in in less than an hour, easy as, and man what an improvement, at a guess I'd say about 2 to 2.5 times more light. But I dicked around on the fogs for a bit for 2 reasons. Firstly had to mod the cover on the rear of the lights to accept the large grommet. And then I had to slightly bend the reflector out by about 2 mm as it was just touching the globe and shorting it out to the body, this had me stumped for ages as it worked in my hand but as soon as I bolted the light to the car it failed, because it was then earthed. Not sure how this affects the light disspersal, but I rarely use the fog lights in the city anyways. (again sorry no pics)
Then I did a DIY grille mod. Below. (sorry no shots of the process, but I'll do my best to describe it.) The grille was removed, then I dremmeled and hacksawed out the inner section. Then I used
Plasti-Bond
to fill in the holes, (bunnings) It is a 2 part plastic putty. I found it very easy to use and f@#king strong. After shaping it, sanding it and re-moulding it to my liking I, prepped, primed and painted it. For the plastic chrome front bit, I sanded it down a tad, then etch primed and painted the whole lot. Matt black FTW. Then I got a mate to get me some security mesh used in flyscreens/doors etc. It is rigid as, made of steel and comes powder coated, The holes are real small though, could be an issue in summer for cooling etc. About 1000 times better than super cheap/ebay mesh, and it was free. Then a final light coat of black for a uniform colour. Re-attached the suby badge and got a ebay STI badge. I made it as deep as the bonnet catch would allow, infact the bonnet latch striker just touches the grille when closed. This was a faily involved proccess, not hard, but alot of fiddling and prep time. But well wurth it IMHO.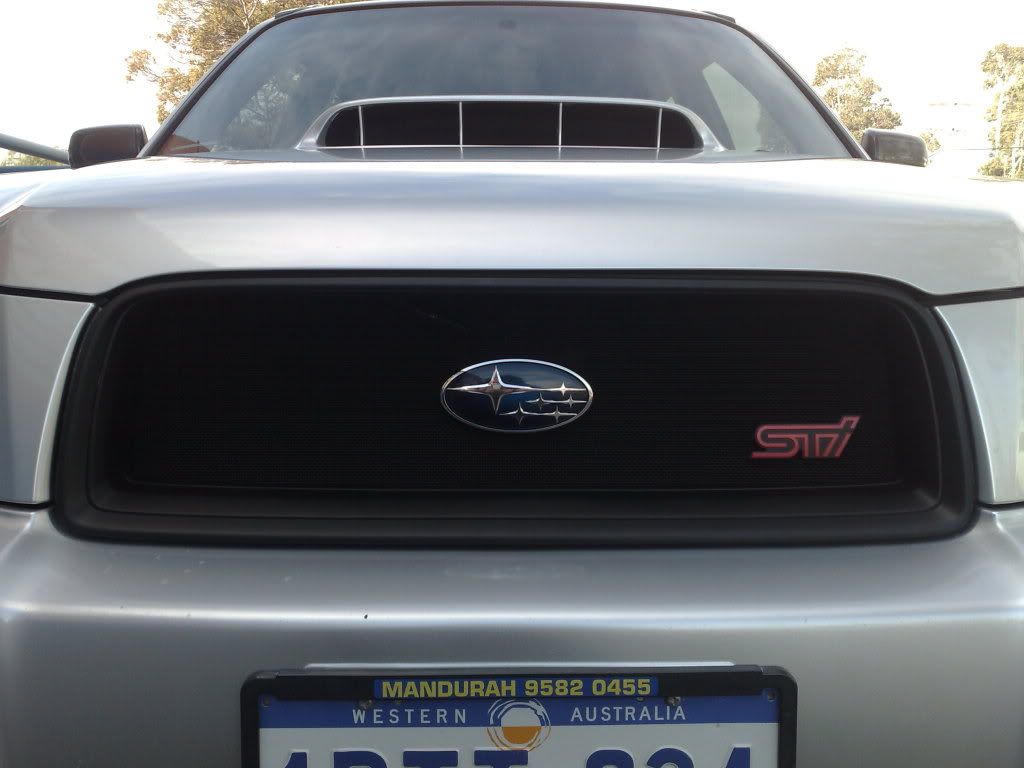 Next up I did a full front and rear
LED
signal light upgrade. Did indicators, park, Stop/tail, reverse and high level stop globes. The
flasher
needed to be upgaded to a non load sensitive electronic one to keep the flash rate the same. (I used a hella unit, sorry forget the part #). Otherwise a basic swap, but headlights and trim have to come out to change front globes. While the rear lamps were out I added two diodes to each side in series with the reverse and indicators then joined them after the diodes. The effect is that when the indicator flashes the reverse light on that side also flashes, and when the reverse lights are on the rear indicators also light up. That was because the indicator/reverse light are in the circle part of the light assembly and I thought it would be cool. I got the LEDs from brightlightautoparts. They are not super bright, perhaps equivillent to standard, but the light is instant, where as incandesants have a 'heat up' time of a few milliseconds, for the brake lights it could mean all the difference in a possible rear end collision???
My stock 6 stacker jammed up, trapping my 6 favourite cds with it. So, time for a sound system overhaul. I've been driving around with the radio for a bit and its giving me the s#!ts. And instead of fixing, I put it off. Next week we're going to Karijini on a road trip and I suddenly realized that radio would just not cut it. So I ordered a Pioneer
AVH-P3250BT
and a Paciffic Audio
PAC SWI-PS
. Also ordered a Pioneer
GMD-9500F
amp and 2 pairs of Pioneer
TS-D1720C
splits. I choose Pioneer because of my experience with thier DJ gear, it is rock solid and I have alot of faith in the brand for that alone, I am not a huge car audio buff, so I cant really say how it compares with other brands. I also have a reverse camera lying around from a previous unfinished project, that will hopefully go in no worries. The head unit goes in on saturday, but the rest of the system will not be here till probably after I get back. Ideally it would all be done in one foul swoop, but I didn't get my finger out in time. If I remember, I will post a photo write up of the install, including a 'how to' program the steering wheel interface.
When the amp goes in, I plan on mounting some green leds under the seat, front foot wells and down the air vents, I am already thinking up circuits that would allow the lights to be activated by the door swithches and by the dash light without interfering with each other. I think that would complement the standard dash illumination nicely and add another level of class to the car. (Watch this space.) EDIT : Done.

Whats on the horizon???
I have grand ideas for a dual core in-car-puter with touch screen in the top dash double din slot. My main want for this is to integrate a virtual dash setup via the OBD slot and some clever electronic wizardry, also possible sat/nav, internet, tv, integration would be sweet. With a carputer anything is possible. Although I am doing a fair bit of research on this one, it could turn into a $2K+ epic fail. There is a whole community of car-pc users at mp3car, well wurth looking at if you have the time.
I also have plans to get the stock 12 spoke alloys prepped and powder coated black to match the grille. I'll probably do this when shes next due for tyres, which aint far off. EDIT : Done.
After that hopefully some performance orientated mods. A Turbo back exhaust and Process West TMIC would keep me happy for a little bit.
Hope this fires up some inspiration amongst you other Forester fans. Watch this space for updates and photos.
~Bram.
Ok so, the foz needed some new rubber, so I thought it would be a great time to get the rims powder coated. I really like the style of the standard rims but not the colour, although an extra inch or two would be great (and so would 17s or 18s LOL). I rang around a bit and found a place to get them sand blasted and Powder coated then clear laquered for 200 bucks. Got it done, then had
Kumho KU27s 215/60/r16s
put on and balanced and a wheel alignment. I choose a colour called charcoal lustre, its close to black, but has a slight metallic look to it in the sun, and the clear really makes it shine. The car sat on blocks in the garage for a week, but I think its worth it. While it was getting it done I fixed up a minor dent on my DIY grille, I must a got a chip at karijini or something. It was very minor, but it was buging me. So I took it off, Cleaned it down, removed the sti bagde (cos it was a cheap ebay unit) and gave it a touch up, i also clear laquered it, so it shines like my rims.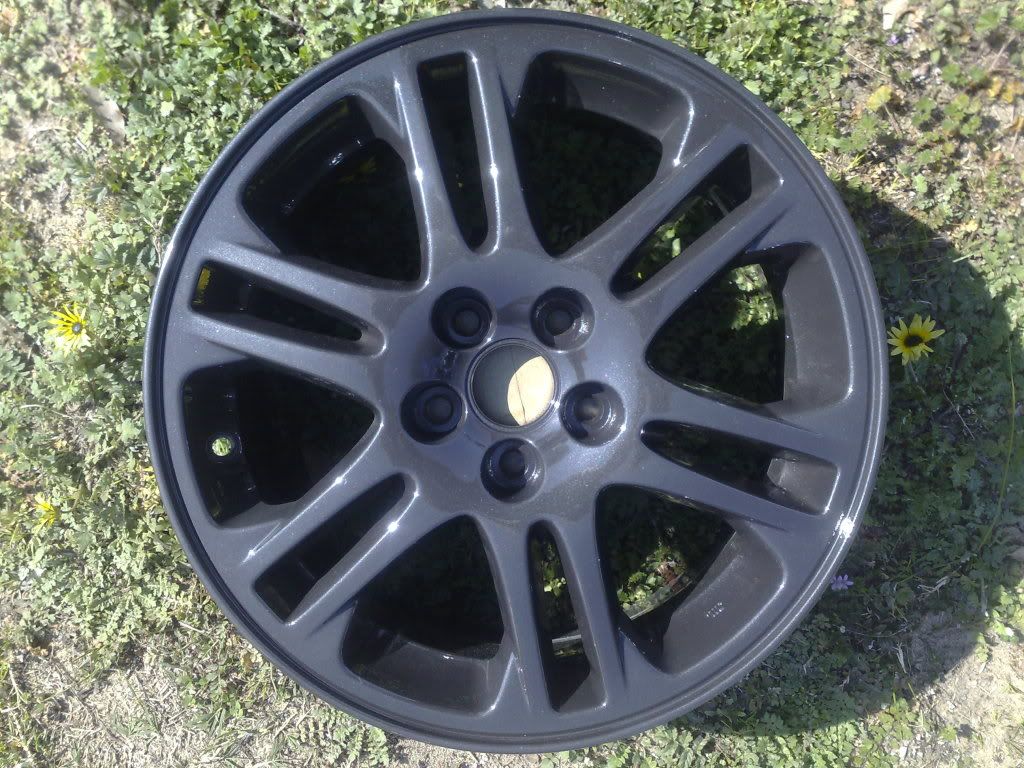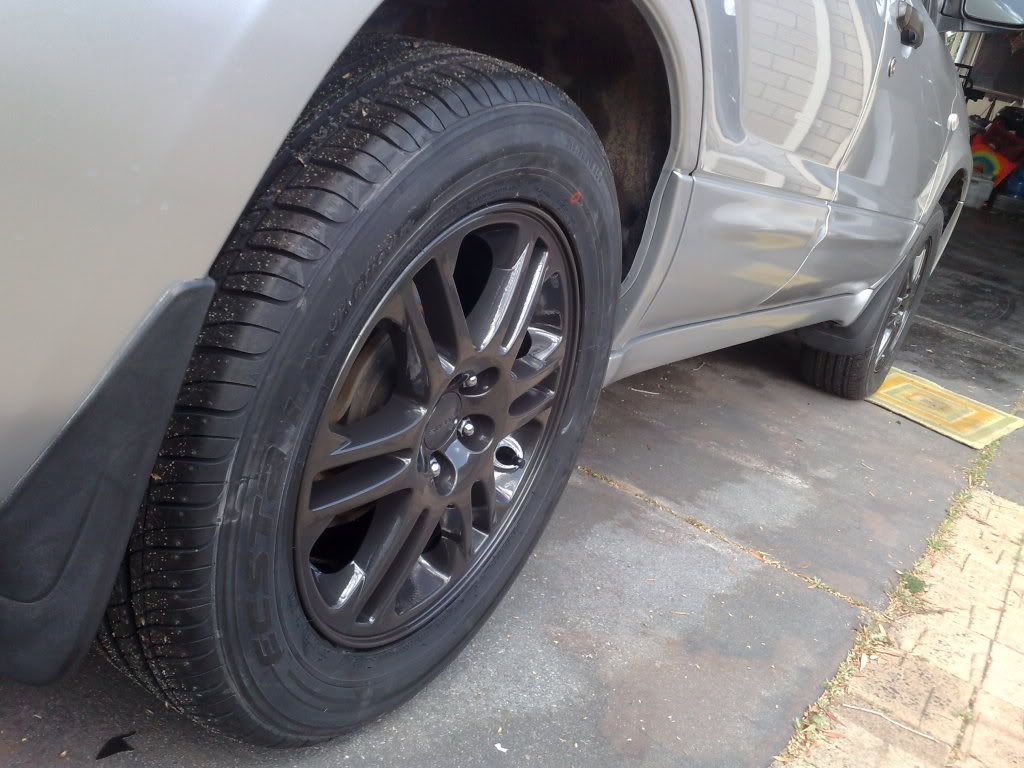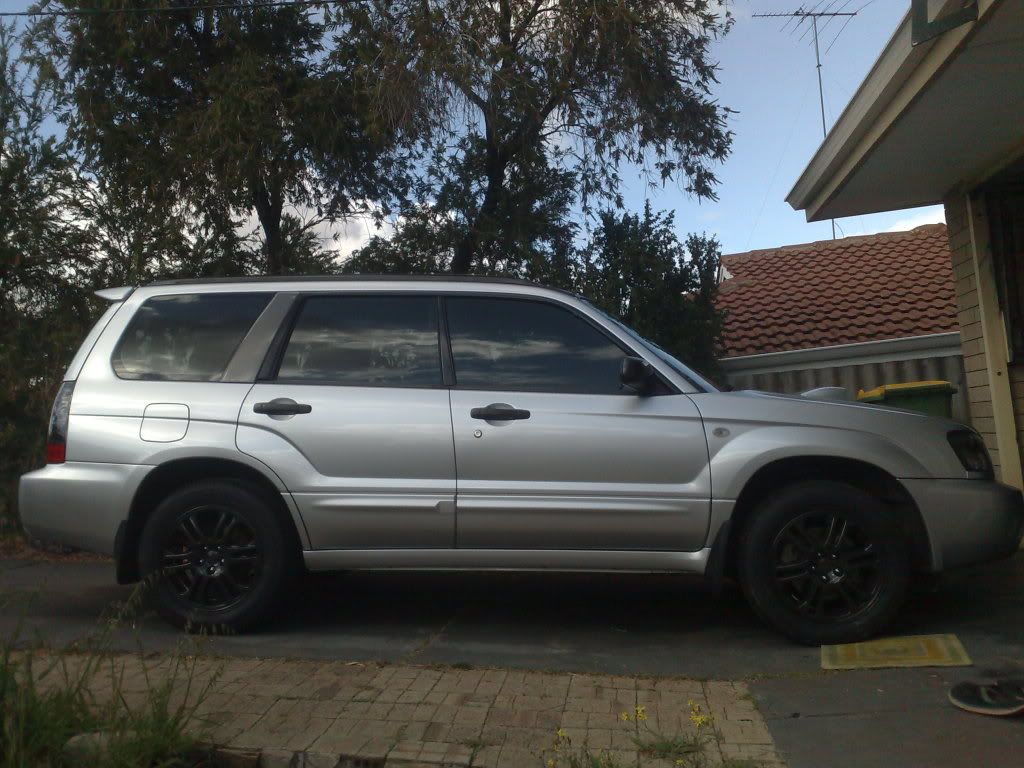 After all the
discussion
about blow by oil loss etc I decided to get one of the
Grimmspeed Air Oil Seperators
. Very good piece of kit, has stopped pretty much all my oil loss.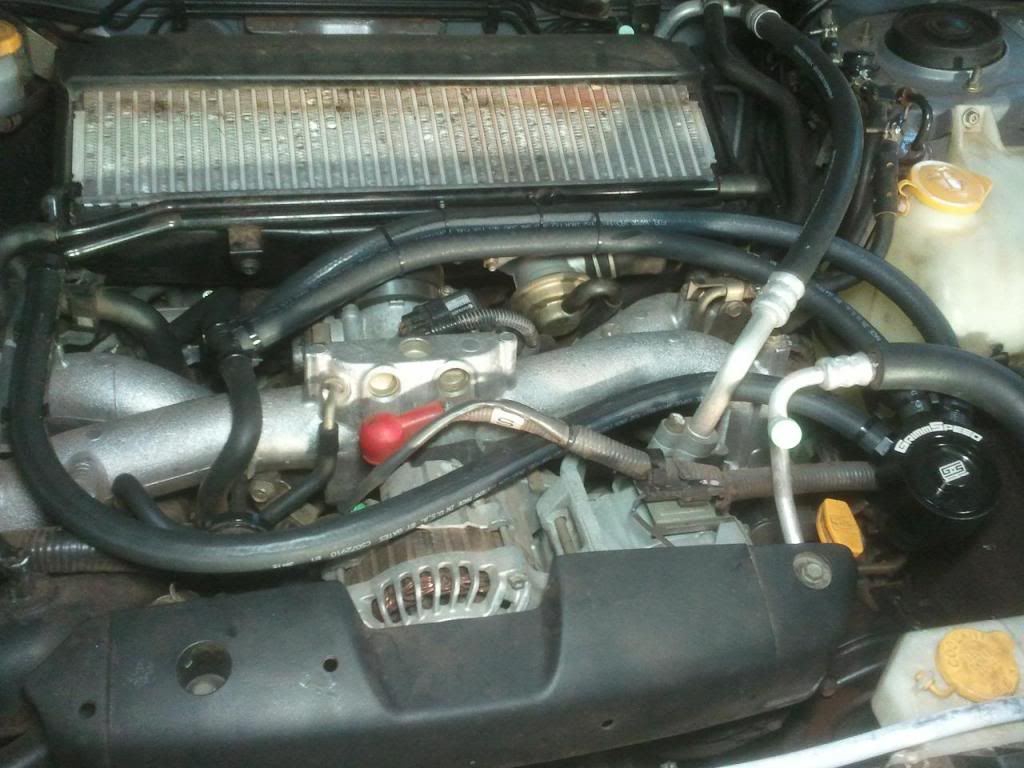 I decided to make up a
DIY CAI
, its my first performance mod, and I love it. Induction and BOV noise is sweet and I think theres a performance increase in the high RPM, high Boost WOT area. Wont Go into details here as I already made a
DIY CAI
thread to document it.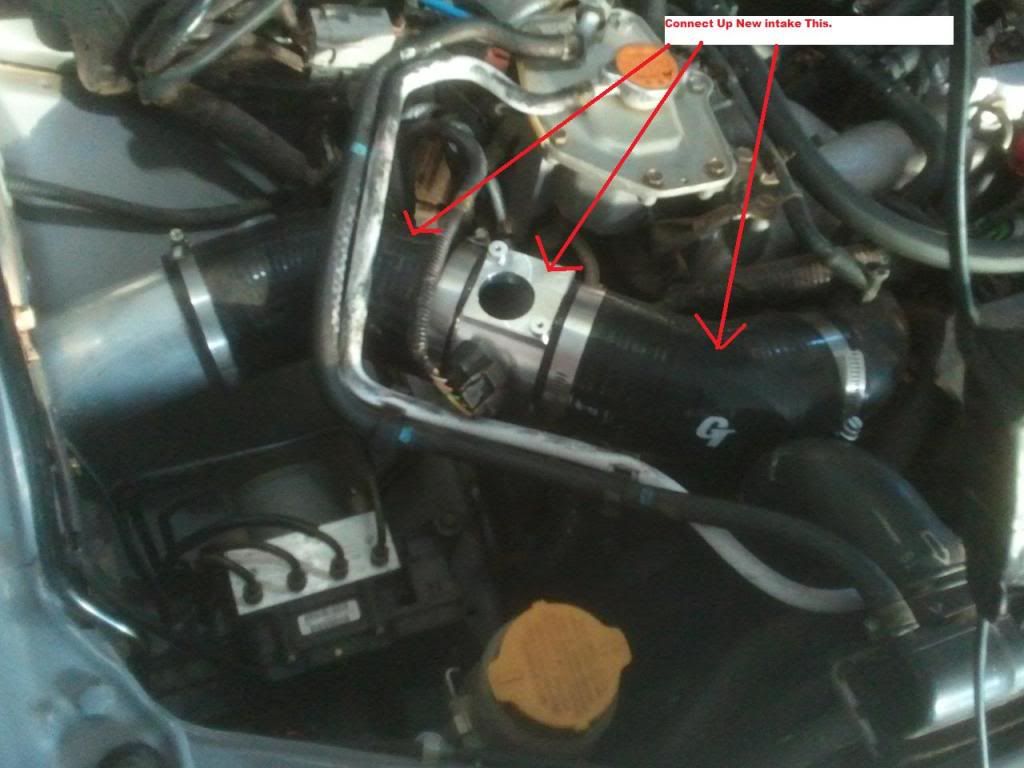 Ok, my bits from the whiteline GB got here, sweetness! I got a
KSB599
Front Strut Tower Brace, a
BSR35XZ
22mm Heavy Duty Adjustable Rear Sway Bar, and some
KBR18-22
Rear Heavy Duty Sway Bar Mounts. Fitment was pretty easy, had to move some stuff to fit the strut brace but otherwise easy as. Sway bar has made a massive improvement, highly recommended. But the strut brace not so, I'll keep it on as it cant harm it and it looks cool, but whether it is or not, I cant notice any improvement.